Card My Yard McAlester
Hi All! I'm Rebecca Lee and I am excited to bring Card My Yard to McAlester and the surrounding areas! My husband Matt and I cannot wait to bring joy to all of your celebrations with Card My Yard! We look forward to all of the excitement this will bring to our community and families!
Now servicing: 74501, 74425, 74430, 74442, 74502, 74522, 74570, 74547, 74553, 74560, 74528, 74850, 74578, 74432 and 74561
This is an individually owned and operated franchise location licensed by Card My Yard My Franchising, LLC.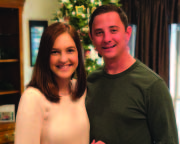 Choose Your Product
Fonts
(Hover for name)
Bright Blue Happy Birthday
Multicolor Happy Birthday-Girl
Royal Blue Happy Birthday
Graphics
(Hover for name)
Birthday Cake: 3 Tier Pink
Birthday Cake: Blue, Yellow, Red
Birthday Cake: Happy Birthday Candles
Birthday Cupcake: Multicolor
Birthday Present: Blue and Red
Birthday Present: Multicolor Boy
Birthday Present: Multicolor Girl
Edible: Champagne Glasses
Transportation: Tractor - Green
The Card My Yard Photo Feed
#cardmyyard